Sumeet Nair explores history, culture and Indian cuisine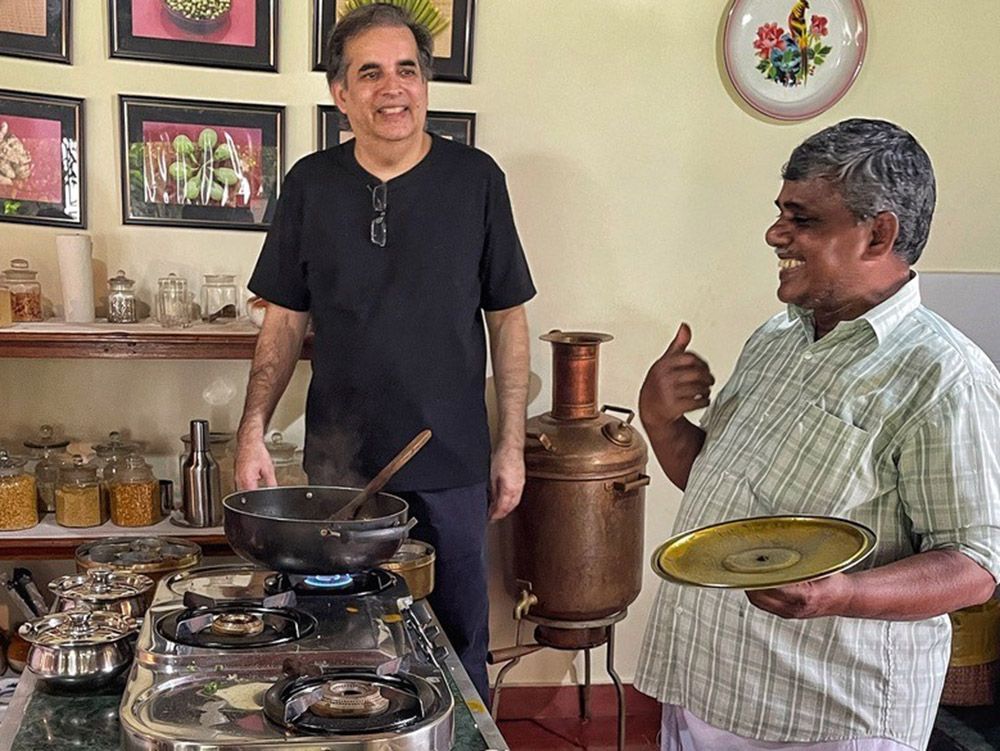 Digital wizard Sumeet Nair leaves tech world behind to share passion for food
Reviews and recommendations are unbiased and products are independently selected. Postmedia may earn an affiliate commission from purchases made through links on this page.
Article content
He could be a digital titan.
Article content
For the past four days, I've been eating meals Thali-style, with my fingers, ensconced in a 25-room heritage hotel in southern India that feels a bit like The Best Exotic Marigold Hotel.
Article content
I'm here with a group from Canada led by Karen Anderson, the Calgary-based owner of Alberta Food Tours and lover of all things India, to learn how to cook in "Chettinad" style — the cuisine handed down by a caste of traders whose travels outside India infused local recipes with foreign tastes.
Understanding people through the food they eat appeals to me.
Our teacher is Indian chef and food enthusiast, Sumeet Nair. I first met Sumeet in 2018, at his organic farm outside Delhi. Not only does Sumeet lead cooking sessions every morning, he decodes each of the 15 or 16 curries, chutneys, breads, rice dishes, vegetables and desserts scooped onto our banana leaves-cum-plates every meal by the local cooks.
This 55-year-old man is a digital wizard. Sumeet would be a darling for venture capitalists now lining up to invest in India's IT sector. So I point-blank ask: Have you really decided to spend the rest of your life chasing your passion for food, rather than seizing on the opportunity to make big money in India's IT sector?
Article content
(As an aside, in 1990, Sumeet's older brother Rajiv, was named Microsoft India's first employee.)
Sumeet knows how to make money deploying IT talents. Not only did he export his own fashion designs to the likes of Donna Karan and Calvin Klein, Sumeet set up the Fashion Design Council of India, and put India on the high-fashion map, organizing India Fashion Week.
Arriving in California in the early 1980s, just in time to witness the birth of the computer age, Sumeet studied economics and product design at Stanford. He vividly recalls sending his first email in 1986 (American university campuses and the U.S. military were the early adopters), and regularly bumped into Steve Jobs on campus, when Jobs was kicked out of Apple.
Article content
When time in our cooking class opens up for a sit-down interview with Sumeet, one-on-one, it feels awkward suggesting a meal for two; food here is served family-style, at long tables. Instead, we settle for a glass of water and a quiet corner to talk.
"Room temperature or ice," asks Sumeet as we pass by the kitchen en route to the hotel's front foyer. Everyone here is proud of the new water purification system, installed when the place was empty during the COVID-19 pandemic.
As we settle against the worn, upholstered cushions, Sumeet in a narrow, plush-covered chair and me, deep into a faded chintz-covered couch, glasses of water are set on the coffee table between us. A handcrafted round lid is placed on the top of each glass to keep the bugs out.
Article content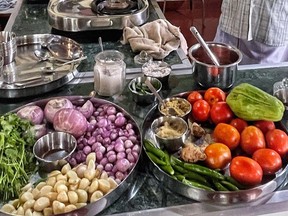 It's dusk now, and the air remains heavy with humidity, but there is calm and the faintest cooling breeze. Mere minutes ago, the noises — the call to prayer from the mosque next door and birds screeching in the trees overhead — made conversation impossible.
Now is a time to talk. We relax into the conversation.
Mid-sentence, Sumeet jumps up to turn on the overhead fan. Its whirring sound breaks the quiet but is essential, he assures me, to keep the mosquitoes at bay. Nearly invisible, they nonetheless wreak havoc; they leave a collar of pinpricks around each of my exposed ankles that I do my utmost not to scratch.
What Sumeet prefers to talk about is food.
Why am I surprised?
In Delhi, there's a tandoori oven in the backyard and his bookshelves, filled with hundreds of cookbooks, most with handwritten notes scribbled inside.
Article content
I follow Sumeet's Instagram feed — yummefy.com — where snappy two-minute videos show me how to prepare Hyderabadi biryani and Punjabi pindi chole.
Sumeet is on a quest to unearth the little-known cuisines of India, much as he has done with the Chettinads here in Tamil Nadu province, where I'm presently visiting.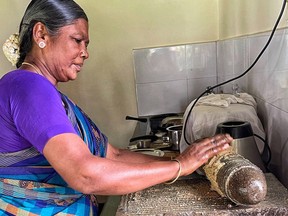 There's the Bengali widows' vegetarian cuisine from Calcutta (when their husbands died, widows were forced on a strict diet prepared in segregated kitchens). And the royal Awadhi cuisine from Lucknow and Creole cuisine in Pondicherry.
I catch myself leaning forward, drawn into these stories — it's a perfect combining of history and culture and, of course, the food. It's difficult to bring Sumeet back to modern India.
Article content
He's upbeat about the potential of homegrown IT in India, and domestic opportunities for smaller companies. Silicon Valley is now coming to India, attracted by the talent, the lower costs and Indians' entrepreneurial drive.
While understanding of the hustle, Sumeet is happiest holding court at The Bangala hotel, paying close attention to how the local chefs roll heavy stone grinders to pulverize spices for house masalas and prepare for dinner.
Dinner. It's time for dinner. That's our cue to end the conversation.
Street-food tours of India a perfect way for tourists to feast like a local

New Indian Basics: A mother-daughter lesson in the beauty of cooking with spices