N.C. author tackles Latin American cuisine in new cookbook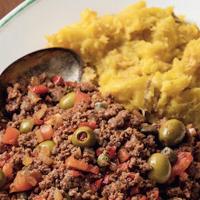 "Latinisimo" is Sandra Gutierrez's fifth cookbook, but it's the first one she had in her mind to write.
"When I first got an agent (Lisa Ekus) in 2007, I told her I wanted to do this book," Gutierrez said recently by telephone from her home in Cary. They eventually decided the time wasn't quite right.
Still, Gutierrez continued to research and plan what would become "Latinisimo: Home Recipes from the Twenty-One Countries of Latin America" (Knopf, $40), which was released last month in both Spanish and English language editions.
In fact, Gutierrez, 58, said she's been planning for this book almost all her life. "I started collected recipes when I was 6, 7 and 8. I have recipes in my teens from my aunt, from my grandmother."
Gutierrez is the daughter of two Guatemalans. She was born in Philadelphia while her father was studying to be an oral surgeon. She was raised in Guatemala from age 5 to 18, then returned to the United States to attend college, eventually marrying and raising a family here.
She moved to Cary almost 30 years ago and became a food writer for the Cary News. Her first book, "The New Southern-Latino Table" (University of North Carolina Press), delved into the new fusion cuisine of Latinos who had adapted their native cuisines to suit the ingredients and circumstances of their new homes in the Southern United States.
Her other books include "Field Peas," "Empanadas" and "Latin American Street Food."
Gutierrez wrote in "Latinisismo" that she has always had a broad view of Latin American food, partly because she was brought up in two countries and cultures and partly because she was "born into a family of global travelers."
Once she got into writing cookbooks, she said, she noticed that there were few books that tackled Latin Cuisine as a whole. In fact, other than a slew of Mexican cookbooks mostly written by non-Hispanics, there weren't many Latin cookbooks period, she said.
By the time she was ready to start writing this book about four years ago, she had about 9,000 distinct recipes from 21 Latin American countries — a number she determined by focusing on those whose primary language is Spanish, plus the one exception of Brazil, where Portuguese is spoken.
She first whittled that number down to 3,000, then kept at it till she wound up with 357 plus variations in the finished book.
She specifically chose only everyday recipes that home cooks make today. She avoided historical recipes, or fancy restaurant dishes, or even special-occasion and holiday foods.
She also decided to organize the book by ingredients, not by country — though each recipe includes the country or countries of origin.
"Latin American cuisine is a quilt made of different patches and I wanted to thread them together. And what threads them together is the ingredients," Gutierrez said.
For instance, she said, the trinity of rice, beans and plantains are in the most popular dishes of almost every Latin American cuisine, though used in different ways.
Gutierrez also talks about how Latin American cuisine is a melting pot in some ways similar to the United States. In addition to the Spanish colonizers and enslaved Africans that spread their culinary influence throughout Latin America, Gutierrez mentioned immigrants from Italy, Germany, China, Japan, Lebanon and more countries.
So there are dishes similar to Japanese sushi and Chinese stir-fry in Peru, and pasta dishes in Argentina, Uruguay and other countries. Baked kibbeh (lamb and bulgur-wheat casserole) in Brazil and the Dominican Republic reflect a Lebanese influence.
Yet, at the same time, Gutierrez said, the 21 cuisines she included in the book have remained remarkably distinct. Part of her reason for writing "Latinisimo," she said, is to celebrate Latin America's diversity.
Gutierrez begins the recipe section of the book with a chapter on such essentials as spice mixes, chimichurri, garlic paste, sofrito and crema.
Then there are 19 ingredient chapters. A handful each of arepas and tortillas appear in the Corn chapter. Brazil's feijoada is in the Beans chapter. Tuco (Italo-Argentinean tomato sauce) is in the Tomato chapter. Costa Rican cold avocado soup is featured in the Avocado section.
The book has mofongo (plantains and pork rinds) from Puerto Rico; shrimp, coconut and mango ceviche from Colombia; chicken thighs in mojo from Cuba; char siu (Chinese-style barbecue pork) from Peru; beef, pumpkin and root vegetable hot pot from Venezuela; and much more.
A chapter on cacao includes mole from Mexico; chocolate cookies from Panama; green salad with orange and cacao nibs from Uruguay; and plantains in chocolate sauce from Guatemala.
There's also coconut bread rolls from Honduras, coconut tarts from Belize, and tres leches cake that Gutierrez said originated in Nicaragua before spreading elsewhere.
And, of course, there are recipes for the flan and dulce de leche that sweeten the palates of several Latin American countries.
Gutierrez said that her selection came down to recipes that "are still made today on a regular basis" and "that have stood the test of time."
But, she said, "I think what motivated me most was not to exclude anybody. I'm hoping that every person that comes from Latin America or has been to Latin America will feel pride in this book."
Though she may have balanced the representation of all 21 countries in her choice of recipes, she still has literally thousands that did not make it into the nearly 600-page book. "I have only touched on the smallest fraction of the recipes found across Latin America," she said.
336-727-7394
@mhastingswsj