Khalid Farchoukh wins Ottawa edition of Canada's Great Kitchen Party 2024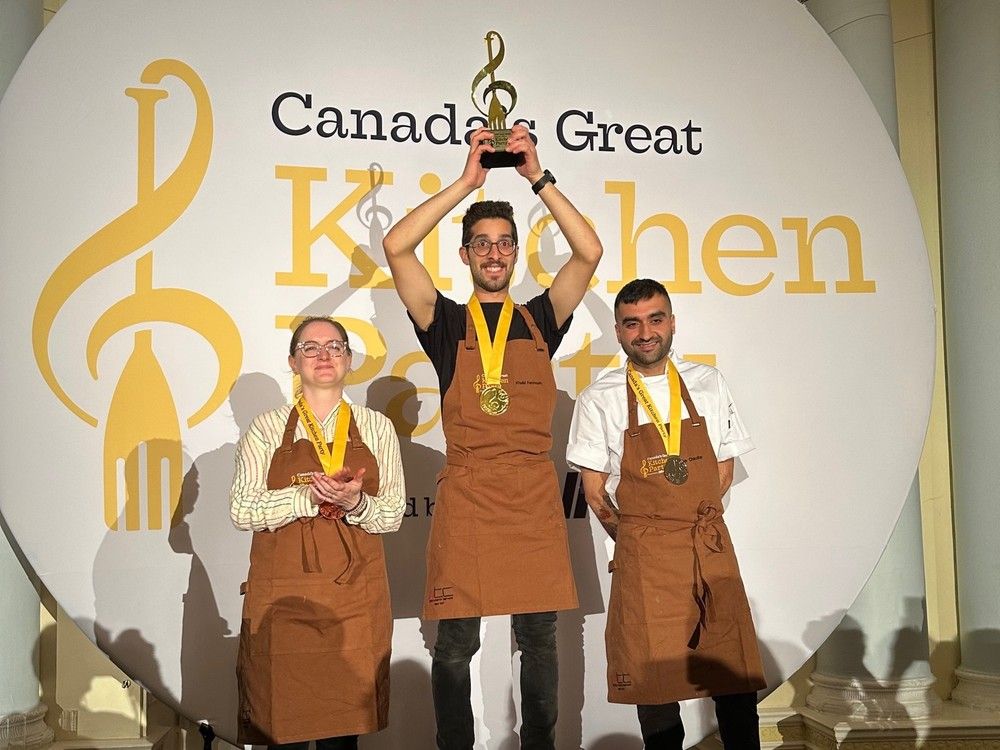 For Khalid Farchoukh, the chef de cuisine at Carben Food+ Drink in Hintonburg, the win is a surprise
Article content
Khalid Farchoukh, chef de cuisine at Carben Food+ Drink in Hintonburg, won the Ottawa edition of Canada's Great Kitchen Party on Thursday night with a humble yet elevated dish in which corn and bread were the stars.
"This was unexpected. I feel great!" Farchoukh said after his win was announced at the Fairmont Chateau Laurier. "It was a really tight race, as I tried many of the other dishes and I'm surprised that I won considering the talent that was here tonight."
Article content
His win over five of Ottawa's leading chefs was in some ways bittersweet, as the eight-year-old restaurant where he works, which specializes in innovative yet affordable tasting menus, announced earlier this month that it would close. Its last day of service is this Saturday.
"We're off to relax, recharge and spend time with family and friends," said an Instagram post from the restaurant, which was opened by the husband-and-wife team of chefs Keven Benes and Caroline Ngo. Carben was included on OpenTable's 2017 list of Canada's 100 best restaurants.
Farchoukh's winning dish featured a slab of grilled corn on a crisp slice of beef-fat brioche, dusted with smoked, shaved beef heart and accompanied by lime gel, fermented romesco sauce, corn husk emulsion, bone marrow, corn miso glaze and puffed sorghum. The dish was delicious and delivered surprise after surprise. Also, its modest ingredients made it stand out in a field that included dishes made with sturgeon, sablefish and other more prestigious ingredients.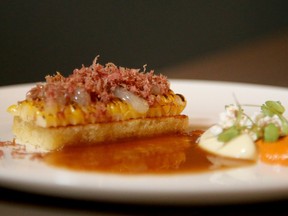 Farchoukh "created the single most creative, compelling and delicious dish, but there was only a one per cent difference between the first- and second-place finishers. The scoring was incredibly close," said Chris Johns, one of the event's seven judges.
Article content
Typically chefs who win the regional qualifiers for the national event serve their qualifying dish again. But Farchoukh said: "Corn won't be in season in February so I'll have to think about it."
With his victory, Farchoukh, who moved to Ottawa in 2019 and has worked in restaurants for five years, has qualified to represent Ottawa in the 2024 Canadian Culinary Championship, to be held in Ottawa in early February.
Because Carben is still open till the end of the week, Farchoukh was eligible to compete Thursday night. But he must be working as a chef at a restaurant by mid-November if he is to be eligible to cook at the national event. He would then represent that new restaurant in February. If Farchoukh is not working by deadline, Thursday night's runner-up will represent Ottawa at the Canadian Culinary Championship.
In second place was chef Raghav Chaudhary of Aiana, the fine-dining destination in the Sun Life Financial Centre that opened in the summer of 2020. Chaudhary's complex seafood dish entitled "Shuck it -flavours of Acadia" notably included a culinary optical illusion in the form of an edible oyster shell. It was made with edible ingredients that were poured into a oyster-shell mould.
Article content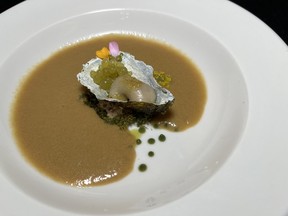 In third place was chef Kristine Hartling of Oz Kafe in the ByWard Market. Her smoked steelhead trout pastrami, which also included fresh rhubarb, sumac-pickled pearl onions, cranberry coulis and rye and red currant crackers, all on a slather of creme fraiche, was as precisely executed and filled with pleasing contrasts as it was comforting and familiar.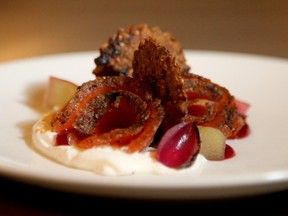 Also competing were: Justin Champagne of Perch on Preston Street, which ranked 61st on the most recently Canada's 100 Best Restaurants list; Éric Chagnon-Zimmerly of North & Navy, which ranked 96th on that list; and Alex Bimm, of Le Poisson Bleu. Champagne's dish, a complex creation with unagi-style sablefish at its centre, won the people's choice award at the event.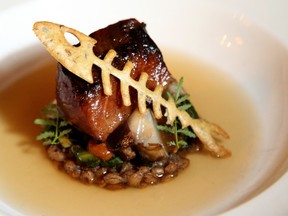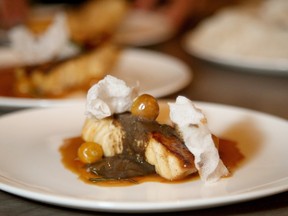 In February this year, Ottawa's Briana Kim, chef-owner of Alice, won the 2023 Canadian Culinary Championship. She was one of the judges at Thursday night's qualifier, along with Marc Lepine, chef-owner of Atelier, a two-time winner of the Canadian Culinary Championship. In addition to Johns, Kim and Lepine, the judges were Janet Boileau, Jennifer Campbell, Sheila Whyte and senior judge Cory Haskins.
The Canada's Great Kitchen Party events raise funds for several charities, including MusiCounts, which advances music education for Canadian youth, and SpiritNorth, which empowers Indigenous youth through sport.
Related Stories
In the global community of extreme chili pepper eating, this Ontario man is the one to beat