52 Healthy Dinner Recipes to Lose Weight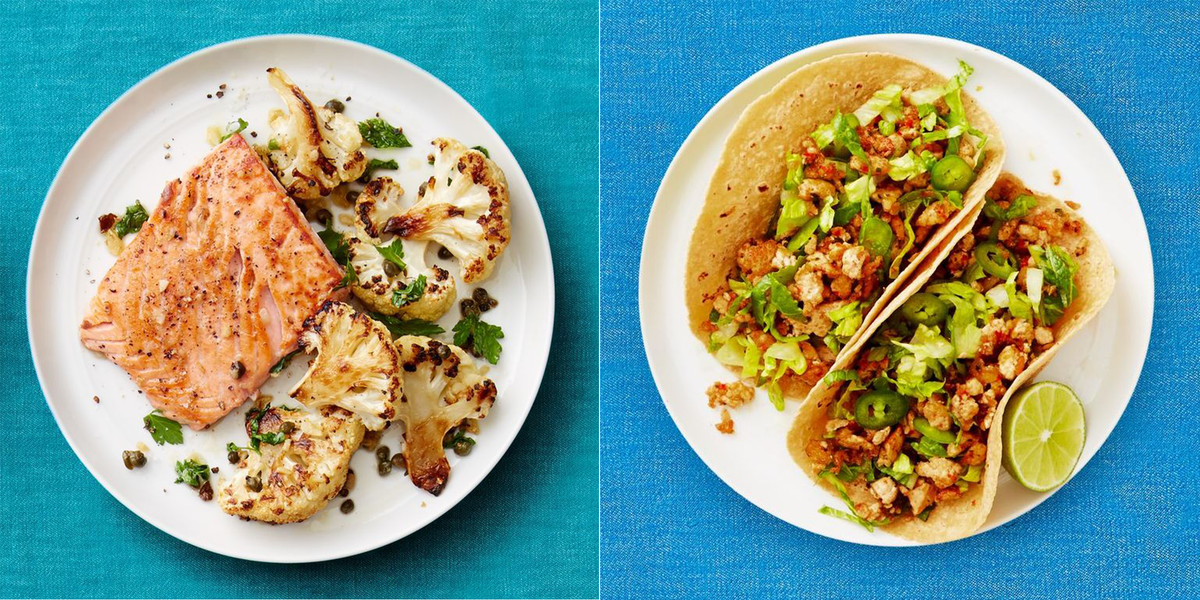 We may earn commission from links on this page, but we only recommend products we back. Why Trust Us?
1
Skillet Salsa Shrimp With Spinach and Feta
A 15-minute seafood spread is in your future with this decadent recipe. Your favorite jar of salsa quickly turns into the base for a shrimp, spinach, and cheese-packed dinner. Just serve with a side of chips or flatbread for the ultimate meal.
Get the recipe >>
2
Orecchiette With White Beans and Spinach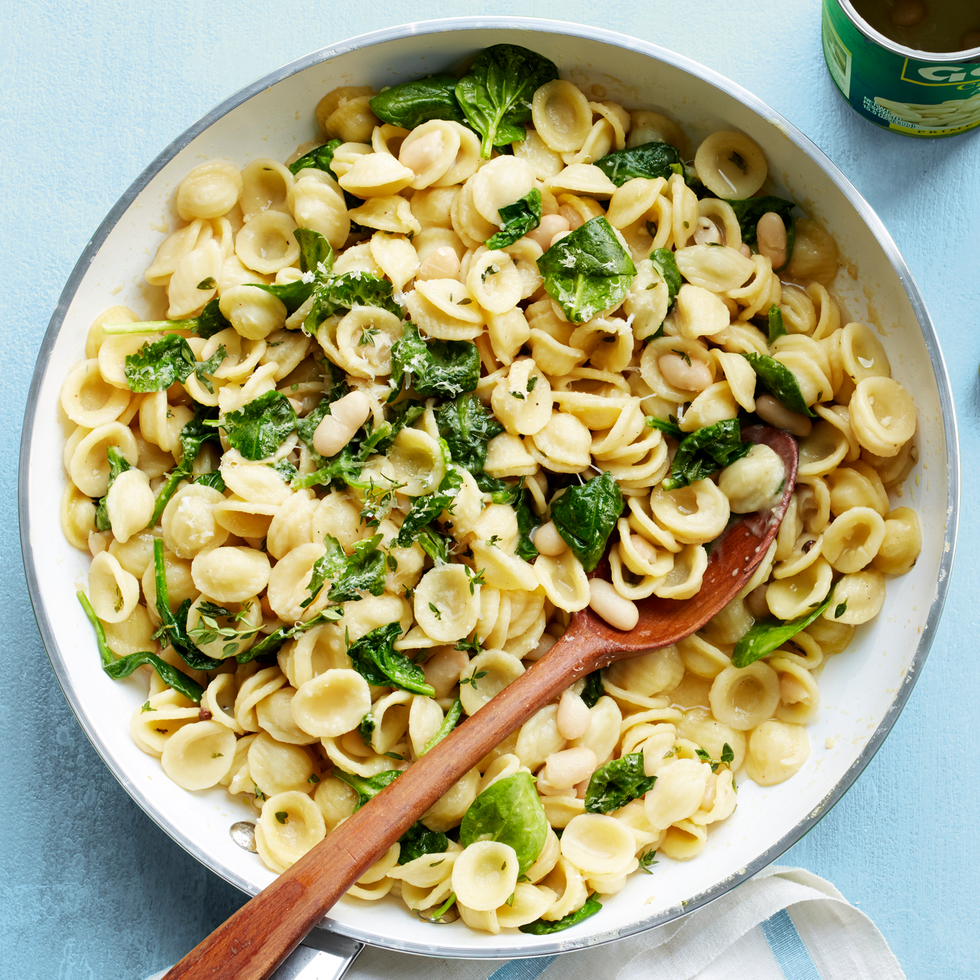 CON POULOS
You don't need to give up pasta forever just to lose weight. White beans and spinach bring a ton of filling protein and fiber to the one-pan dish for a 20-minute meal that hits all the food groups and flavors you love.
Get the recipe >>
3
Chipotle Chicken Fajitas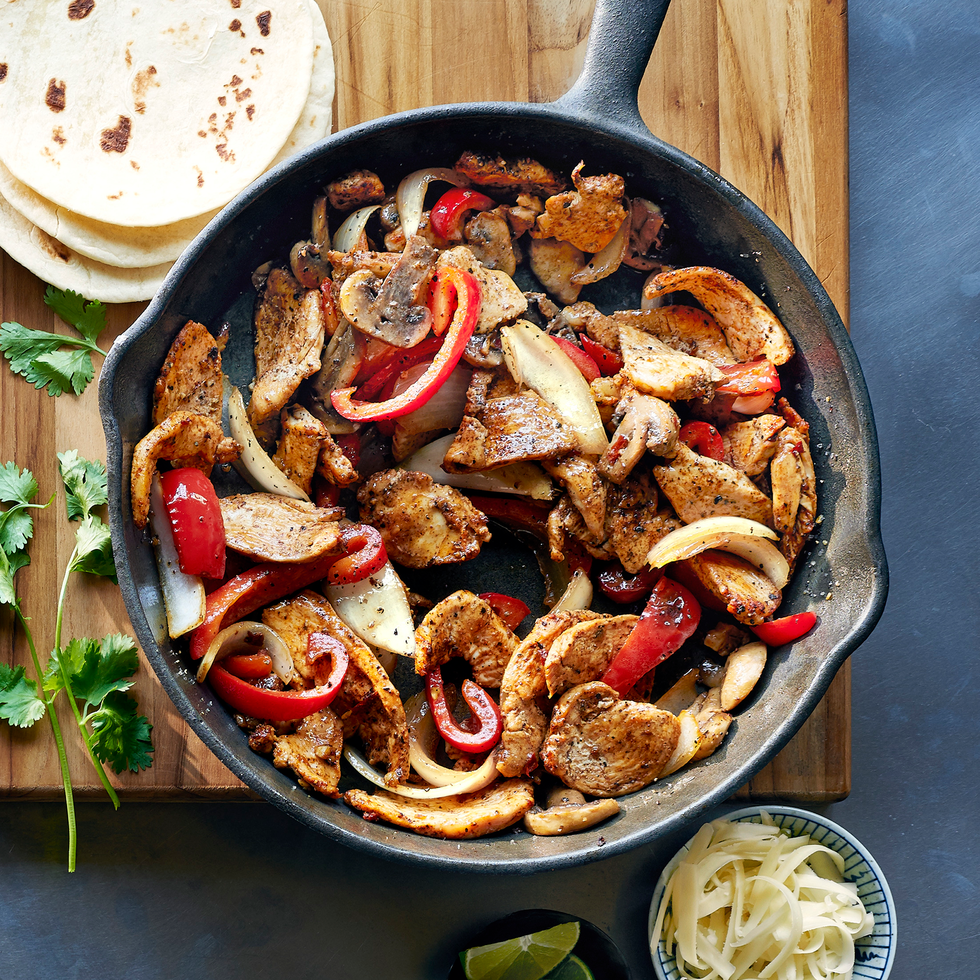 BRIAN WOODCOCK
A 30-minute dinner that is good for you, packs a ton of flavor, and includes soft tortillas and cheddar cheese is our kind of dinner. Plus–it's kid-friendly.
Get the recipe >>
Advertisement – Continue Reading Below
4
Roasted Chicken and Potato With Kale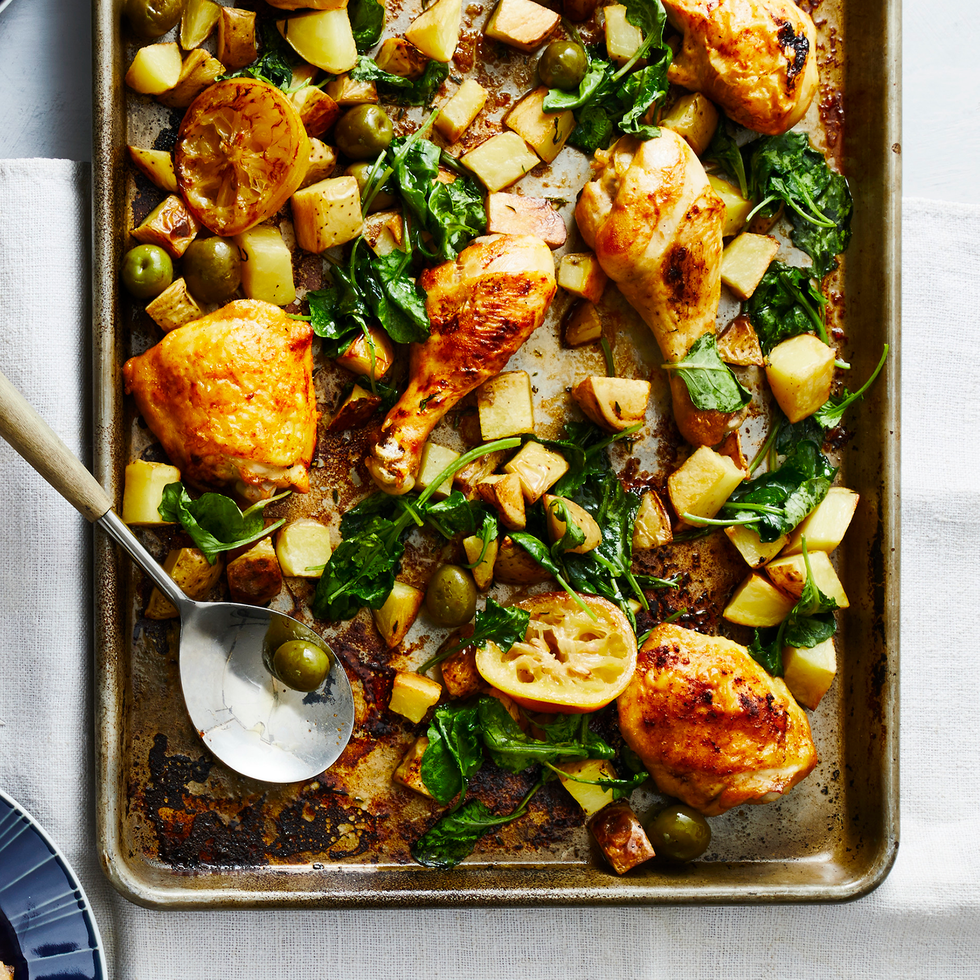 Mike Garten
The crowd-pleasing recipe packs in 38 grams of protein for a serving and is done in just 40 minutes. You'll also get a flavor punch from green olives, herbs, and lemon for the ultimate sheet-pan weight-loss meal.
Get the recipe >>
5
Veggies on Sweet Potato Mash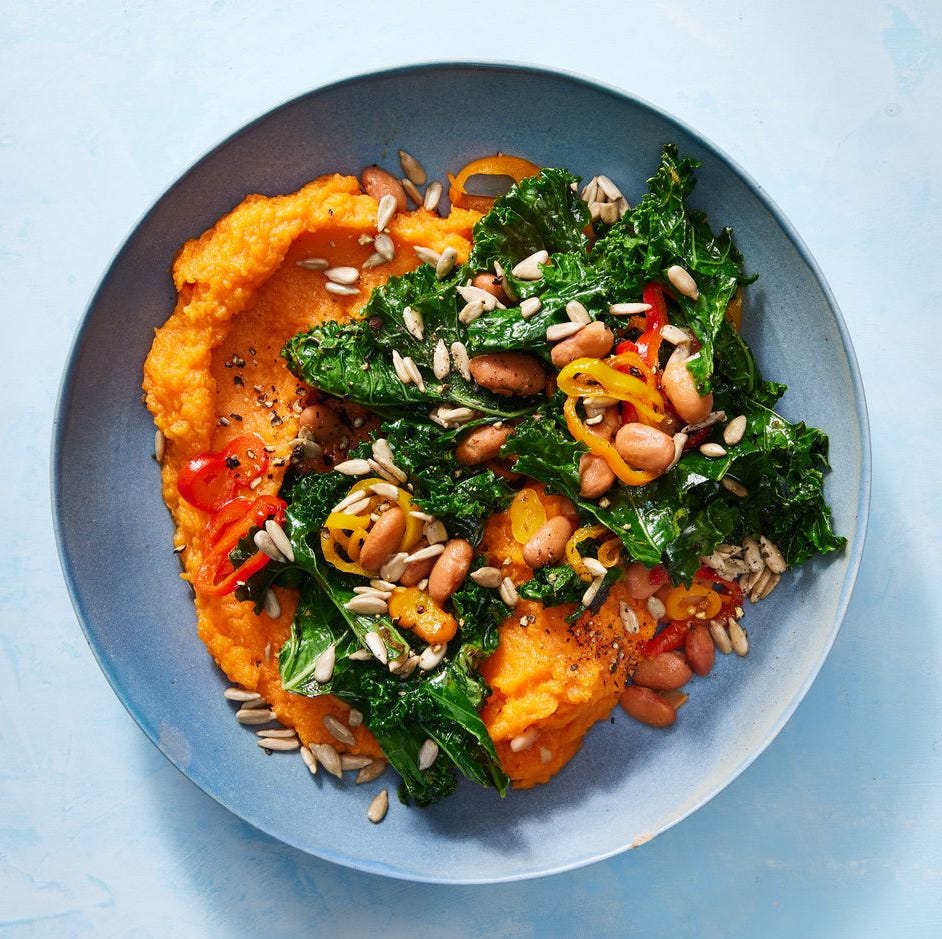 Erik Bernstein
Not only are sweet potatoes delicious, but they are high in fiber and low in fat, making them a great option for a healthy meal for weight loss. This vegetarian-friendly dinner is packed with protein from beans and Greek yogurt, and the sweet potatoes and kale provide vitamin B6 for an all-around nutritious dinner.
Get the recipe >>
6
Fish Chowder Sheet Pan Bake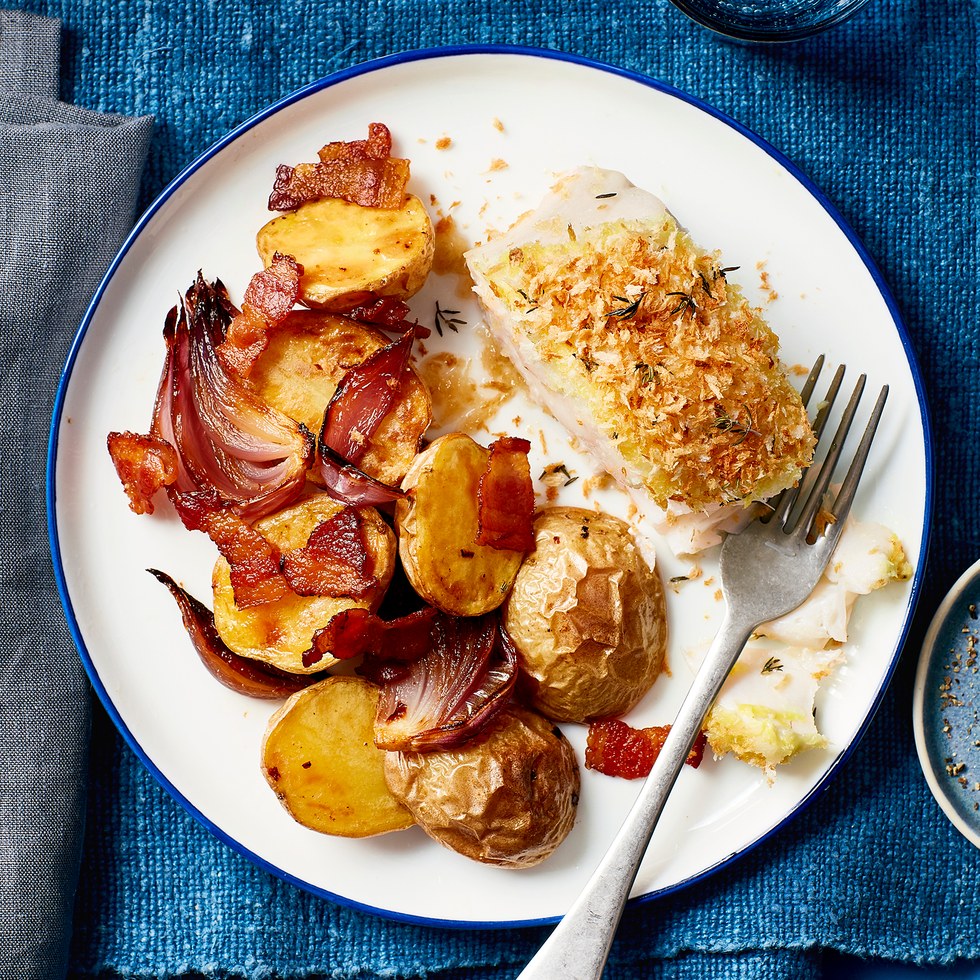 Ryan Dausch
This one-pan dinner is everything you love about the summer staple but in an easy weeknight package. Potatoes, bacon, onions, mustard, and delicate cod are roasted on a single sheet pan that comes together in 30 minutes flat.
Get the recipe >>
Advertisement – Continue Reading Below
7
Seared Tilapia With Spiralized Zucchini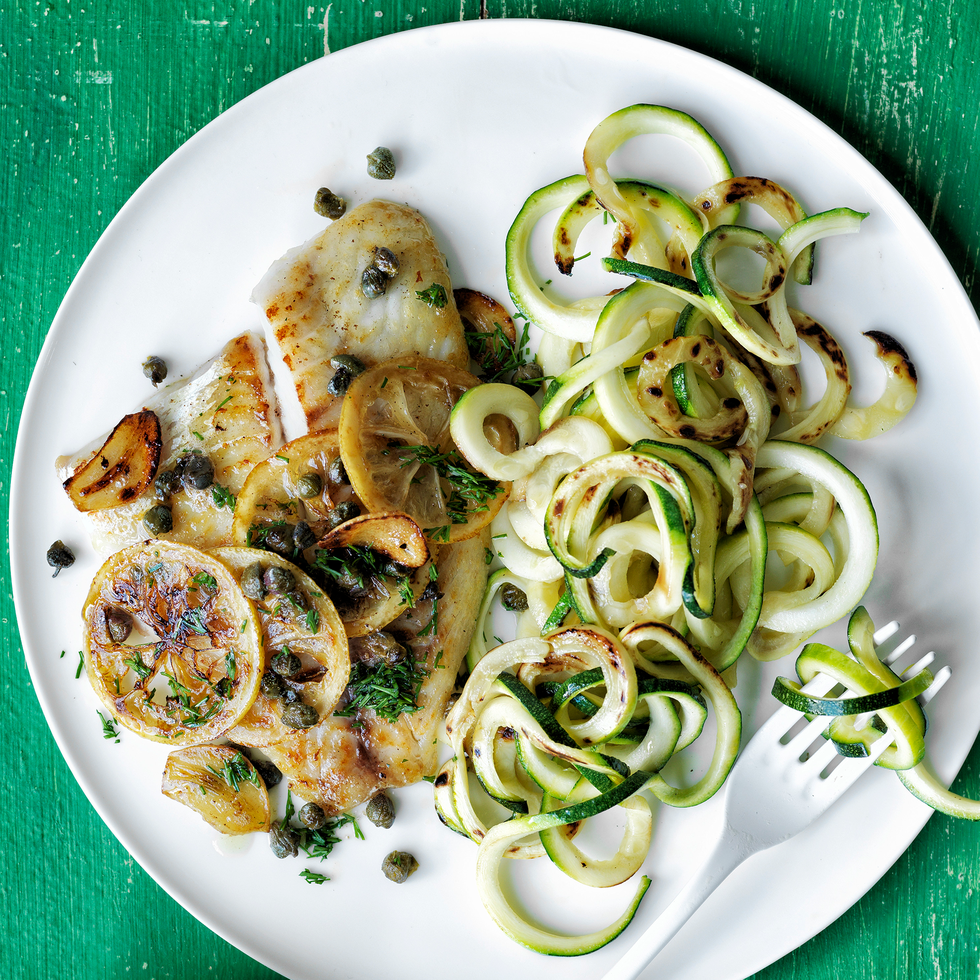 Prevention
Amp up spiralized zucchini with briny capers, fresh parsley, and bright lemon in this delicious summertime meal. For under 300 calories a plate, it's a family favorite you'll make again and again.
Get the recipe >>
8
Easy Tempeh Lettuce Wraps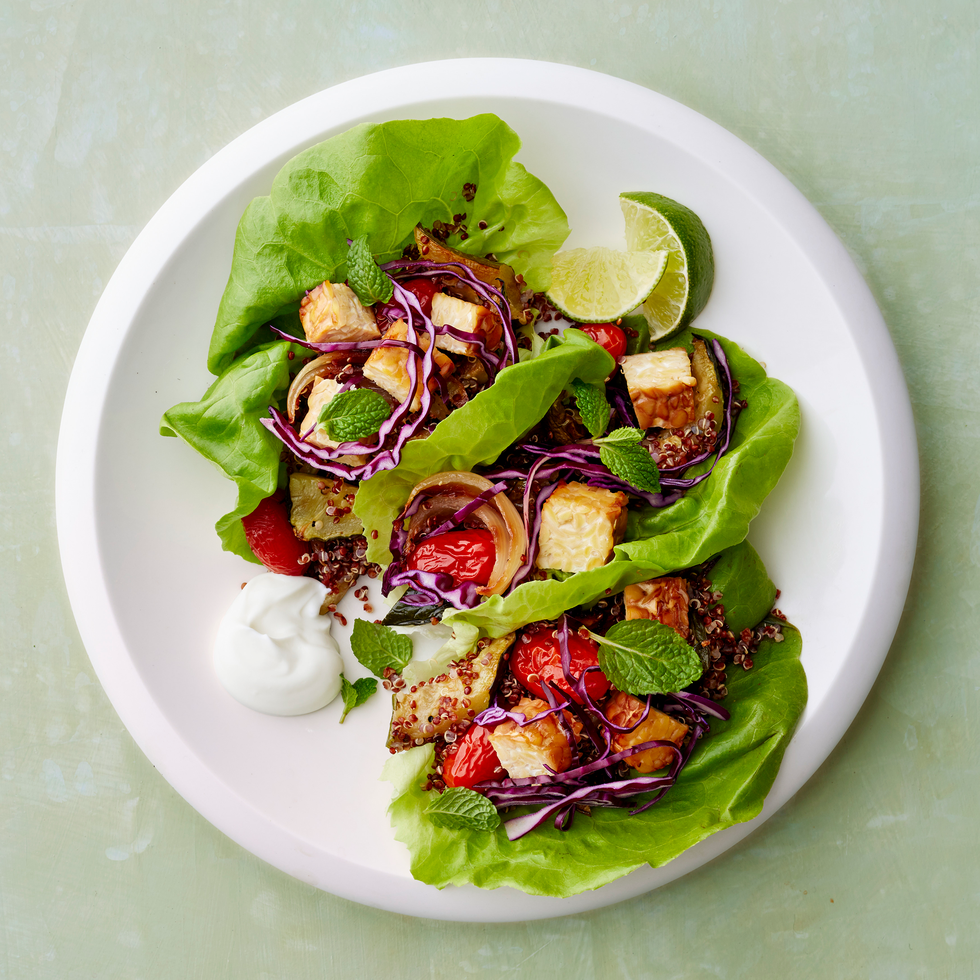 Mike Garten
This 20-minute vegetarian recipe uses gut-boosting tempeh to create a delectable dinner. Plus, a final dollop of Greek yogurt at the end adds a lighter creaminess we can't get enough of for meatless Monday.
Get the recipe >>
9
Striped Bass With Radish Salsa Verde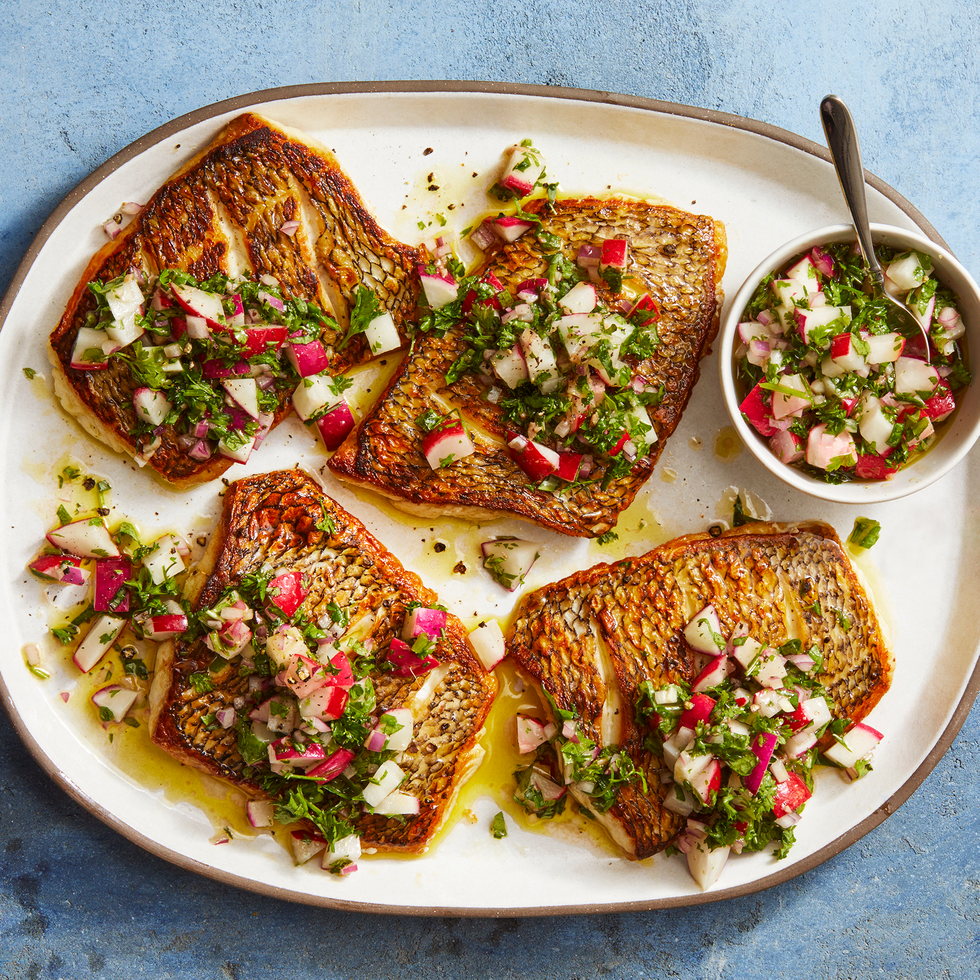 Mike Garten
A piece of beautiful bass is already a showstopping dinner, but top it with a herby salsa verde that combines crisp radishes and salty anchovy paste for a true culinary delight.
Get the recipe >>
Advertisement – Continue Reading Below
10
Spicy Tofu Tacos
Erika Lapresto
Crumble up tofu with the heat of poblano peppers, chile, and garlic, and you get a healthy version of spicy tacos at only 230 calories per serving. Add with a delicious slaw or side salad for the perfect dinnertime plate.
Get the recipe >>
11
Smoky Peanut Butter Chicken Tacos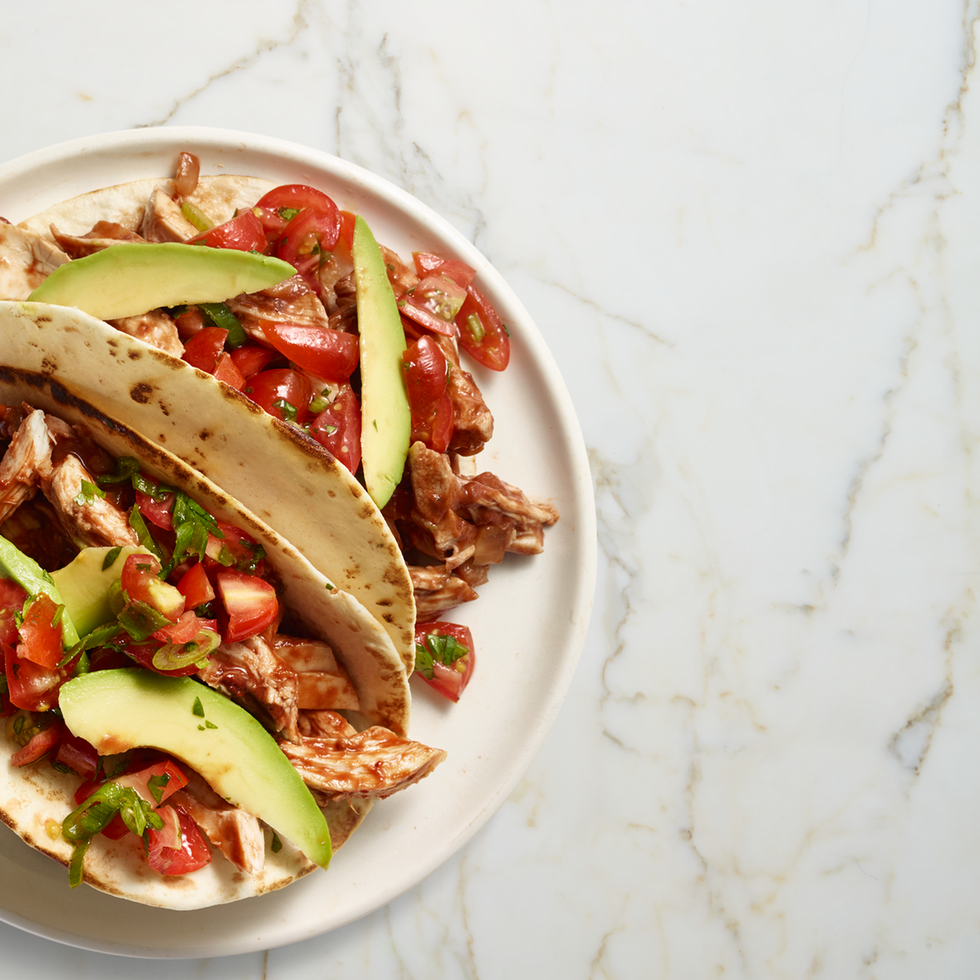 Steve Giralt
Peanut butter can taste delicious in more than just PB&Js. These chicken tacos are paired with a unique sauce that combines creamy peanut butter, tomatoes, chipotle chiles, adobo sauce, and chocolate chips. It's spicy, sweet, and only 308 calories per serving.
Get the recipe >>
12
Greek Salad Pasta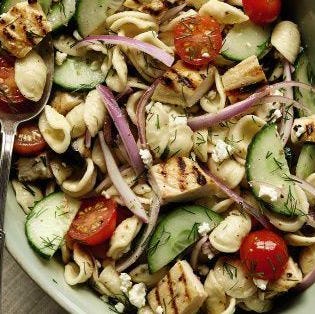 Mitch Mandel
We love a classic Greek salad, but this twist on the healthy lunchtime staple makes it a family-friendly feast. After all, the best way to indulge in a plateful of pasta when you're trying to lose weight? Fill it up with lots of lean chicken breast, tomatoes, cucumbers, and zesty onions.
Get the recipe >>
Advertisement – Continue Reading Below
13
Seared Salmon with Roasted Cauliflower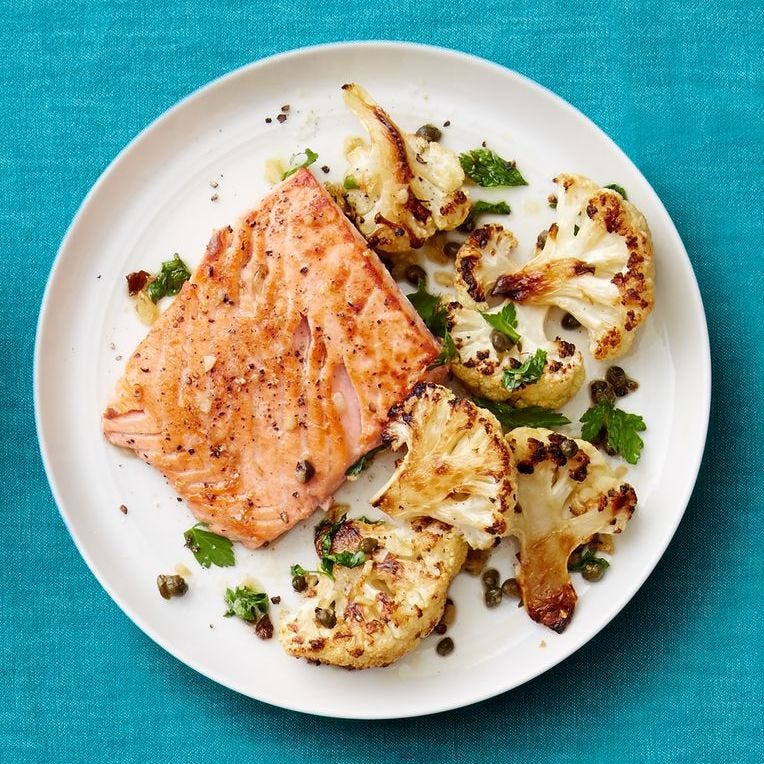 Erika Lapresto
Simple ingredients roasted to lip-smacking perfection make this a healthy, easy dinner that tastes completely indulgent. Add a side of quinoa or bulgur, and you'll still stay under 500 calories.
Get the recipe >>
14
Shrimp, Avocado, and Egg Chopped Salad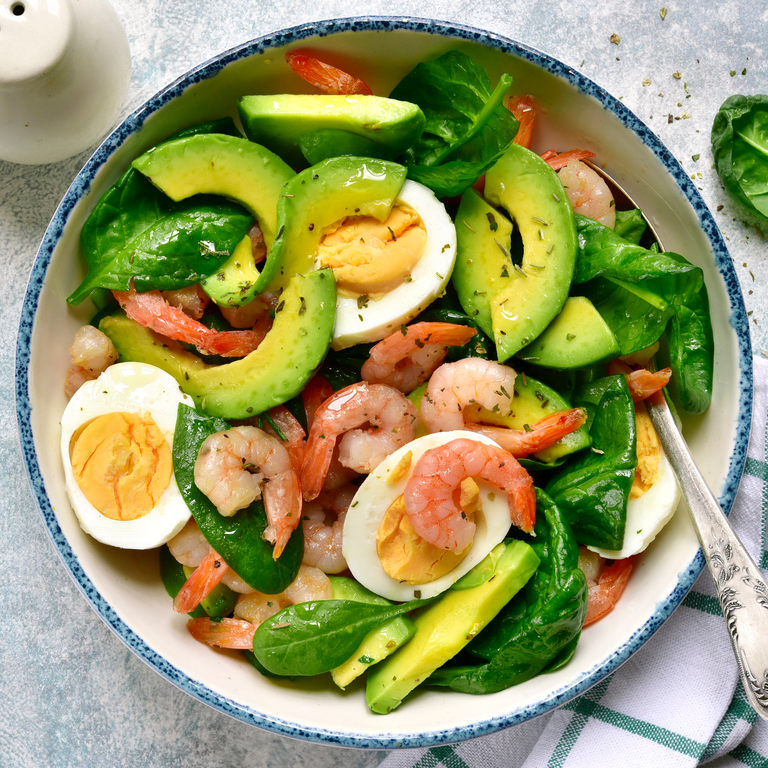 Getty Images
Salad is a deceptive name for this hearty dinner, which fills your belly with three of our favorite ingredients—shrimp, hard-boiled eggs, and creamy avocado, all topped with a tasty lime dressing.
Get the recipe >>
15
Spiced Grilled Eggplant With Fresh Tomato Salad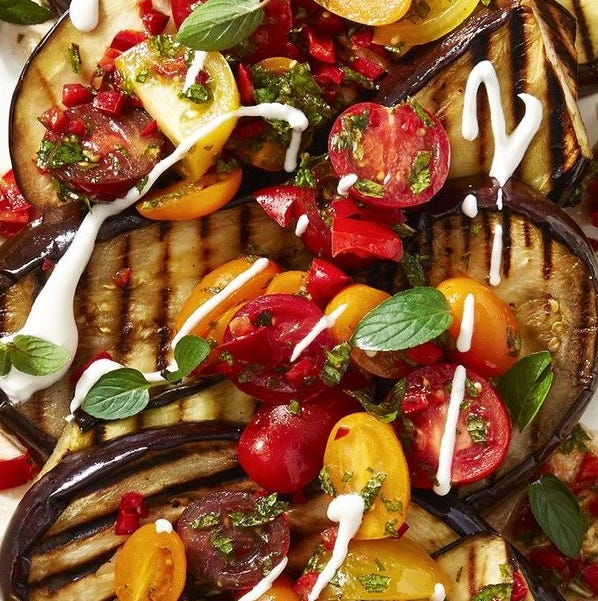 Mike Garten
This tangy eggplant dish should be the star of your plate the next time you grill. Pair it with a wild rice salad and a lean protein for a complete—and completely filling—meal.
Get the recipe >>
Advertisement – Continue Reading Below
16
Seared Tilapia With Spiralized Zucchini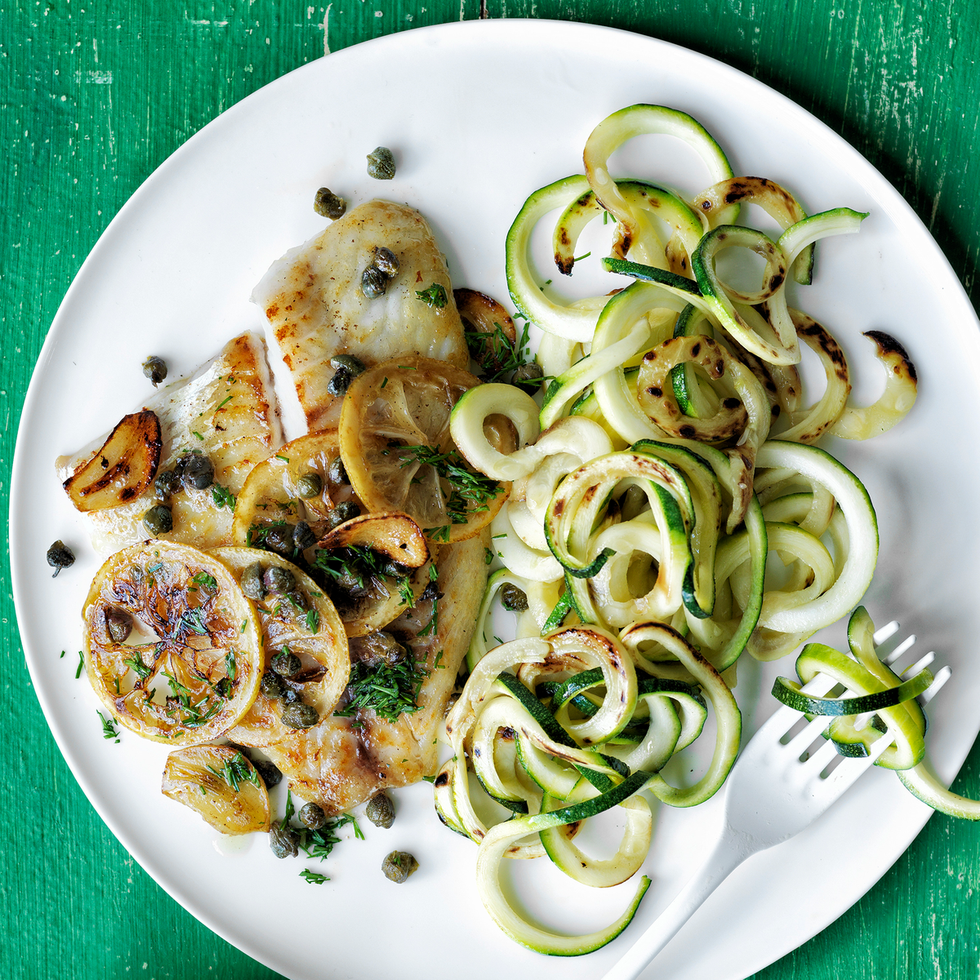 Prevention
Spiralized zucchini (a.k.a. zoodles) are a low-carb alternative to noodles, and they taste great too. Seared tilapia is lightly flavored with lemon, capers, and parsley for a delicious low-calorie meal.
Get the recipe >>
17
Pan-Roasted Bass With Papaya Relish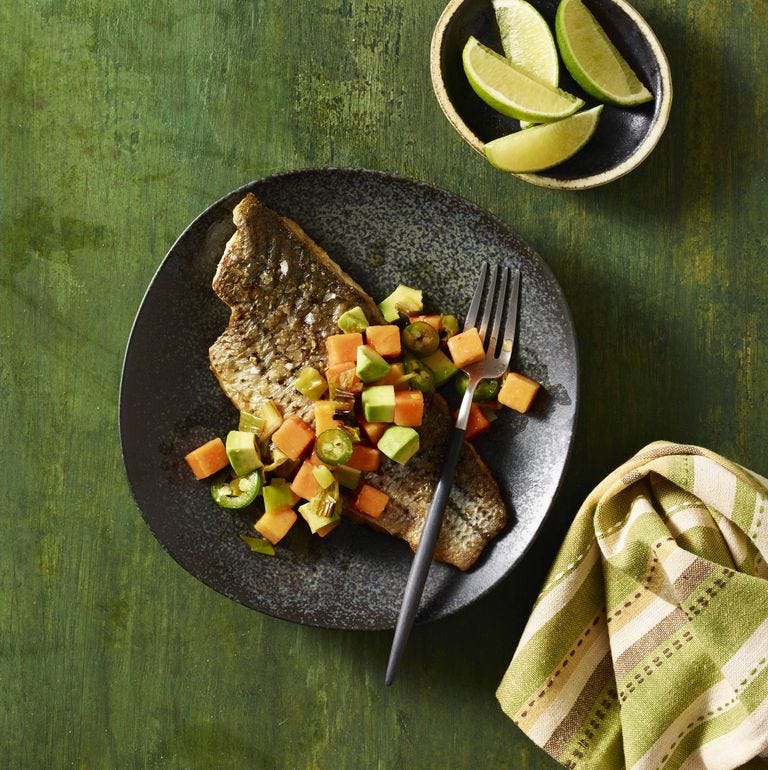 Mike Garten
Switch up your usual seafood (we see you, salmon) by grilling up this delicious bass, which gets a surprising kick of tropical flavor from diced papaya. Serve with a side of coconut rice for a delicious plate that's reminiscent of an island vacation.
Get the recipe >>
18
Roasted Sweet Potato and Chicken Salad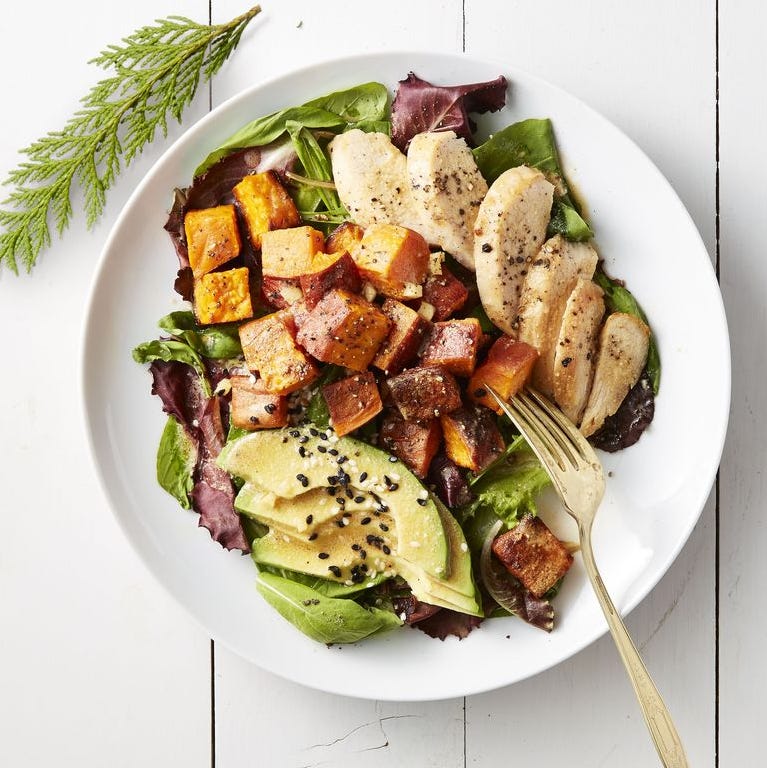 Danielle Occhiogrosso
Each forkful gives you a bite of something deeply satisfying (think sweet potatoes, chicken breast, and avocado) in this colorful salad, which stays under the 500-calorie mark.
Advertisement – Continue Reading Below
19
Seared Coconut Lime Chicken With Snap Pea Slaw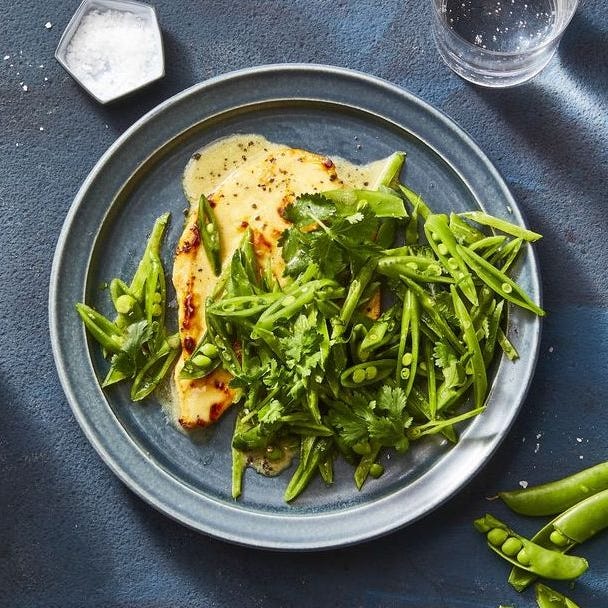 Mike Garten
Flavored with coconut and lime, this low-cal dinner will make you feel like you're sitting on a beach in the sun. Plus, coconut cream steps in as a lighter, creamy alternative to a heavier dairy-based cream.
20
Fiery Black Bean Soup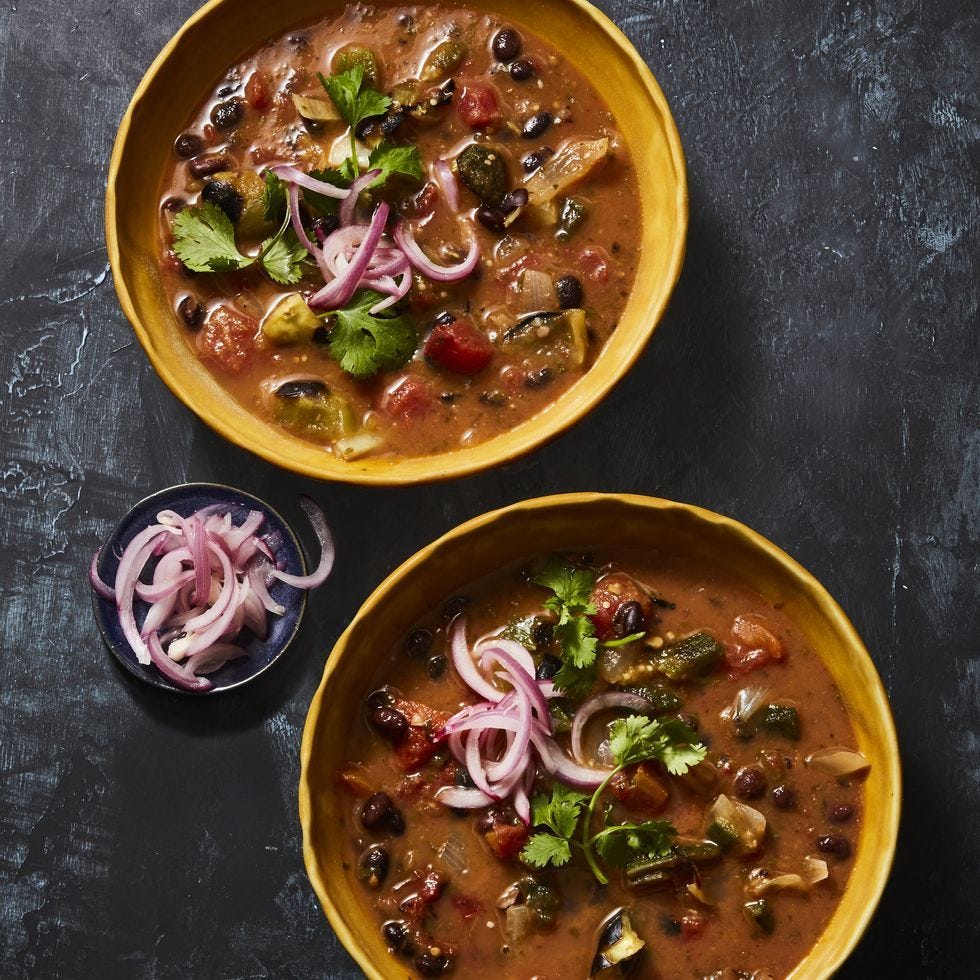 Prevention
When the weather is cold, there's not much better than a comforting soup for dinner. This spicy, low-calorie soup is high in protein and packed with flavors from onions, cumin, jalapeños, coriander, lime, cilantro, and tomatoes. Plus, you can swap the chicken broth for vegetable broth if you're looking to make this soup entirely vegan.
Get the recipe >>
Deputy Editor
Marisa Cohen is an editor in the Hearst Lifestyle Group's Health Newsroom, who has covered health, nutrition, parenting and culture for dozens of magazines and websites over the past two decades.

Arielle Weg is the associate editor at Prevention and loves to share her favorite wellness and nutrition obsessions. She previously managed content at The Vitamin Shoppe, and her work has also appeared in Women's Health, Men's Health, Cooking Light, MyRecipes, and more. You can usually find her taking an online workout class or making a mess in the kitchen, creating something delicious she found in her cookbook collection or saved on Instagram.
Advertisement – Continue Reading Below
Advertisement – Continue Reading Below