15 Best Baking Competition Shows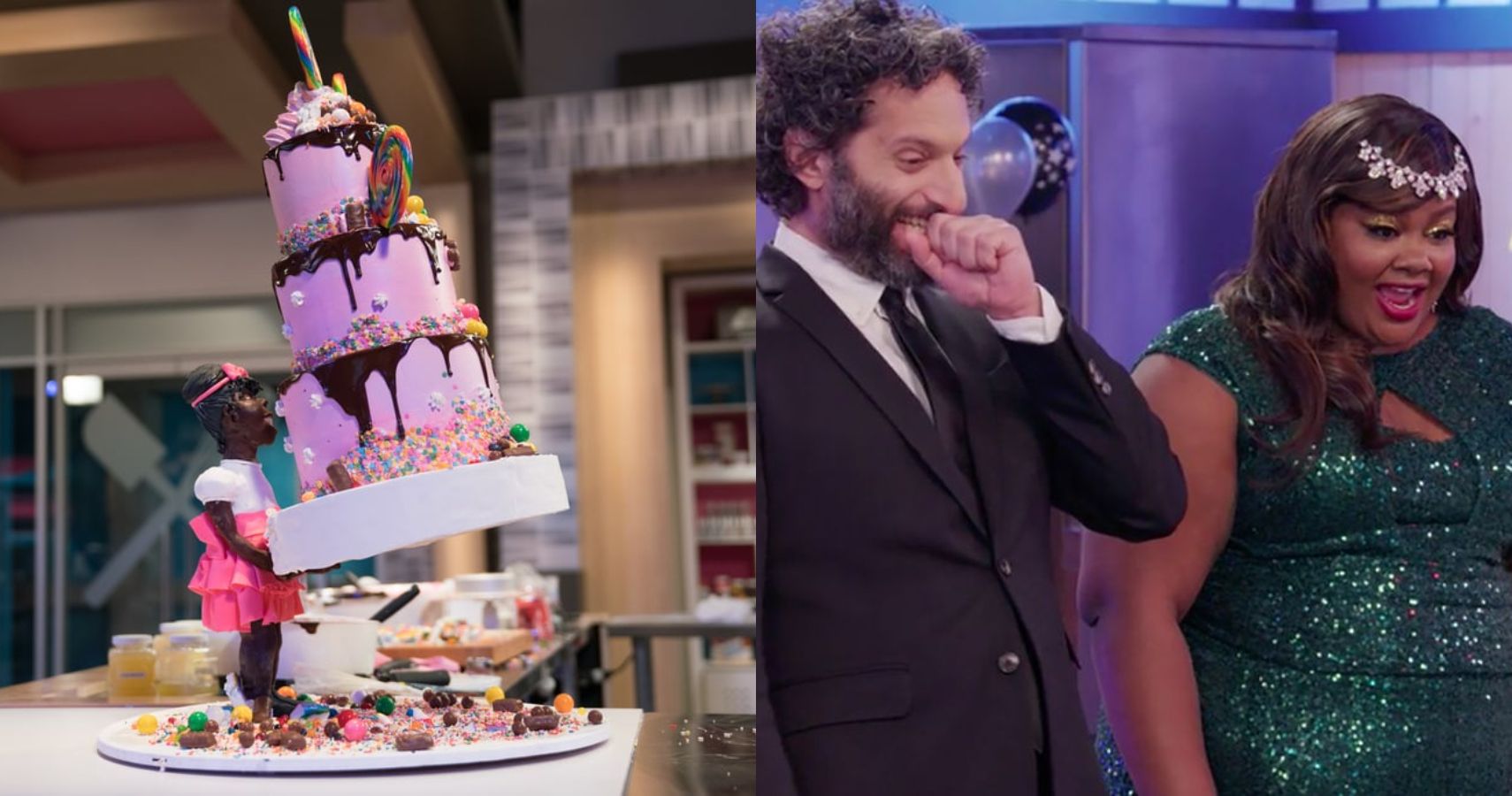 Summary
Baking shows provide a guilt-free way to indulge in watching delicious treats being made without worrying about counting calories.
Baking competitions fulfill the wishes of aspiring bakers, allowing them to showcase their skills and learn from experts in the field.
Shows like Cake Boss, Buddy vs. Duff, and Nailed It! offer a mix of drama, delicious desserts, and entertaining challenges, making them some of the best baking shows to watch.
Baked goods may be one of the trickiest guilty pleasures, as they're as delicious as unhealthy. That's one of the many reasons why the renaissance of baking-focused television has been such a blessing. Now, viewers can enjoy watching tasty treats made from the comfort of their couch without worrying about counting calories. However, some baking shows, like The Great British Baking Show and Nailed It, are some of the best.
Baking competitions also serve as wish-fulfillment experiences for aspiring bakers everywhere. Whether they're a future Martha Stewart in the making or they'd be better off never going anywhere near a kitchen in their entire life. Channels like the Food Network, the Cooking Channel, the BBC, PBS, and even Netflix are all rapidly producing shows about amateur and expert bakers competing against each other to create the best baking shows available to stream now.
Cake Boss (2009-2020)
Watch On Discovery Plus
When Cake Boss premiered in 2009, it was one of the first of its kind and helped launch the reality TV genre sub-genre into success. The hybrid baking/family reality series centered on Buddy Valastro and his family-owned Carlo's bakery in New Jersey. Each episode features Buddy and his talented employees as they create epic, one-of-a-kind cakes while also dealing with the day-to-day struggles of running a bakery with family.
Cake Boss is the perfect show for fans of the reality TV genre. There are many dramatic moments regarding sibling arguments and disagreements about how to grow the business properly. Still, tons of delicious and eye-catching desserts are also being made. The baking comes with its drama as Buddy and his team regularly deal with cakes being too large to get out of their shop or, worse, bumpy car rides that threaten the hours of hard work they've put into their masterful cakes.
Buddy vs. Duff (2019-2021)
Watch On Discovery Plus
When Buddy vs Duff premiered on Food Network in 2019, it was billed as if they were heading into the UFC ring together. Initially slated for only one season, the reality series has four seasons to stream on Discovery Plus. Each season, the competition shows put Cake Boss's Buddy and Ace of Cake's Duff Goldman against each other in an epic battle to see who is the King of Cakes.
Each episode is unique, with the two bakers competing in mini-challenges before setting out to create monstrous cake displays in the final battles of every episode. Points are allocated for different categories and accumulate over the season until the finale, where only one baker can take home the title of King of Cakes. From delectable treats to a healthy serving of trash talk, Buddy vs Duff is a great baking show to add to the lineup.
Halloween Baking Championship (2015-)
Watch On Discovery Plus
After the success of the Spring Baking Championship, Food Network expanded the "Baking Championship" franchise to include the Halloween Baking Championship. Each season consists of 6-7 episodes where a group of bakers competes against each other in an elimination competition until one baker earns the best Halloween baker.
Like the other shows in the franchise, each episode features a small bake and a more giant, more detailed bake. However, the Halloween Baking Championship differentiates itself from other baking shows because the judges wear costumes for the final round. The two most recent seasons have also included elaborate set designs and themes, which add the spooky factor to the show, making it the perfect show for fans of Halloween and baking.
Worst Bakers In America (2016-2019)
Watch On Discovery Plus
While it's fun to watch professional bakers create masterful desserts of all shapes and sizes, sometimes it's even more fun to watch ordinary people fumble around ovens, stand mixers, and struggle to temper chocolate. Worst Bakers in America is the perfect show for amateur bakers who want to feel better about their limited skills in the kitchen.
Each season of Worst Bakers in America starts with 12 terrible bakers from across the United States who are brought to baking boot camp. They are divided into two teams — one led by Duff Goldman and the other by Lorraine Pascale, who are tasked with teaching the bakers how to bake like professionals. Contestants are eliminated weekly until only one manages to transform themselves from a terrible baker into a great one.
Zumbo's Just Desserts (2016)
Watch On Netflix
Baking shows aren't only big in the United States, which is proven by the popularity of the Australian baking reality show Zumbo's Just Desserts. With two seasons available on Netflix, it's a quick binge but one that should not be missed for baking show aficionados.
The competition baking show features renowned patissier Adriano Zumbo, ready to judge a dozen bakers on their skill sets. Each episode sees the remaining contestants competing against each other in various challenges, including twists and turns, like one episode where kids were brought in to judge the desserts.
Cupcake Wars (2009-2018)
Watch On Discovery Plus
Sometimes, the best things come in small packages – like in the case of everyone's favorite pint-sized treats, cupcakes. The hit series Cupcake Wars has followed bakers and inexperienced celebrities alike as they compete in rounds to create delicious, topically themed cupcakes and enormous cupcake displays. The cupcakes could be for anything as disparate as an aquarium launch party or the premiere of a new television show season, to the anniversary celebration of a beloved animated character.
The artistry that goes into perfecting dozens – and, at times, hundreds – of these tasty little treats is awe-inspiring. With winning judges like Candace Nelson and Florian Bellanger and an adorkable new host in Mean Girls star Jonathan Bennett, Cupcake Wars makes for an enjoyable binge-watching indulgence.
Sugar Rush (2018-2020)
Watch On Netflix
While most of the series on this list find competitors participating in the competition on their own or as a primary baker with a sidekick, Netflix's 2018 series Sugar Rush changes things up and features bakers competing in teams of two for a grand prize of $10,000.
The series is known for using larger-than-life baking techniques and finished products. In round one, competitors produce cupcakes. Round two finds contestants making confectionery treats. And, of course, round three requires them to have a full-size cake in keeping with the episode's theme. Hosted by up-and-coming game show host Hunter March, Sugar Rush may be a short binge at only eight episodes, but what it lacks in length, it more than makes up for in energy.
Sweet Genius (2011-2013)
Watch On Discovery Plus
Airing from 2011 to 2013 on Food Network, the cult-hit baking competition series Sweet Genius is perhaps one of the most intense series on this list. With dramatic voice-overs counting down the time remaining, robotic instructions, and cool metallic settings, Sweet Genius puts an almost steampunk-like twist on the warm and friendly baking competition series that fans of the format are all familiar with.
But what truly sets this series apart from all the others is its host, the world-renowned expert pastry chef Ron Ben-Israel. He's known for being generous and downright adorable he can be at times, so it's truly gripping and even jarring to see him take on such a strict, somber tone as he judges the challenging contestants.
Christmas Cookie Challenge (2017-)
Watch On Discovery Plus
Nothing says baked goods like the holidays. Many of the series on this list are seasonally themed and, therefore, only air during certain portions of the year. But that doesn't make them less enjoyable – or their baked goods less appealing. One of the best entries in this subgenre is the Food Network holiday series Christmas Cookie Challenge, which has aired since the holiday season of 2017.
RELATED: The 8 Best Netflix Kids Shows
Former NFL player and Food Network favorite Eddie Jackson hosts the rapidly paced competition, which finds five bakers appearing in each episode and competing in mini rounds as they strive to make the best Christmas-cookie-based treats—a rotating panel of judges, including Ree Drummond and Jordan Pilarski, round the cast out.
Spring Baking Championship (2015-)
Watch On Discovery Plus
Springtime represents a time filled with rebirth and renewal and also offers the opportunity for plenty of bright colors, cute animals, Easter-themed treats, and much more. Leave it to Food Network to fill a gap that most people didn't even know existed with its introduction of the Spring Baking Championship in the spring of 2015.
Currently hosted by its most successful and effortlessly charming host yet, reality TV veteran Clinton Kelly, the series also features Food Network mainstays Nancy Fuller, Duff Goldman, and Lorraine Pascale as its talented panel of judges. Eager contestants engage in two rounds of competition per week – a pre-heat that finds them working on more miniature desserts to gain an advantage in the second round and the main event itself. This series is worth checking out for Duff's hilarious facial expressions as he eats each round of baked goods alone. Many Spring Baking Championship winners have gone on to be quite successful.
Kids Baking Championship (2015-)
Watch On Discovery Plus
When kids are involved in any kind of competition, hilarity and adorableness will inevitably ensue – as will some unexpectedly emotional moments that might even bring on tears. Since 2015, Kids Baking Championship has aired on Food Network.
Hosted and judged by the winning duo of actress and celebrity chef Valerie Bertinelli and Food Network icon baker Duff Goldman, Kids Baking Championship is feel-good – and taste-good – television at its finest. Unlike many other baking series, there is very little drama or harsh competition during the show, as the kids genuinely help each other out. And if feelings are hurt or any baking-related injuries occur, Valerie always offers a hug and words of comfort.
Holiday Baking Championship (2014-)
Watch On Discovery Plus
Yet another holiday-themed baking series that is far and away one of the most enjoyable on television is the long-running Food Network series Holiday Baking Championship. Once again featuring the reliable judging team of Nancy Fuller, Duff Goldman, and Lorraine Pascale, the series premiered in the winter of 2014 and served as the total launching point for all of Food Network's Baking Championship series.
Holiday-themed baked goods are often some of the most visually stunning – and usually some of the most adorable, too, with cute woodland creatures, elves, and reindeer thrown into the mix. Former NFL player and The Bachelor star Jesse Palmer adds an adorably geeky touch to the series as its current host, which finds some of Food Network's most talented competitors year after year.
Cake Wars (2015-2017)
Watch On Discovery Plus
Since premiering in 2015, the Food Network series Cake Wars has consistently proven to be one of television's most adorable, funniest baking competition series. Hosted by the almost absurdly charming Jonathan Bennett, the series follows four amateur or professional bakers as they face off to create the best-tasting and best-looking cakes for events ranging from an anniversary celebration of Dr. Seuss to the premiere of a new Disney gaming system to a celebration of all things Peanuts.
RELATED: 10 Best Reality TV Baking Competitions, According To Ranker
The cakes they make are usually larger than life, requiring multiple team members to assist them in ensuring their safe delivery to the judging stand – which makes for some of the series' most dramatic moments. Familiar face Ron Ben-Israel stands out as the series' most valuable and beloved judge, as he's never too afraid of joining in on the fun – even if it means donning a bizarre little costume prop.
The Great British Bake Off (2010-)
Watch On Netflix
Perhaps one of the most wildly successful and popular baking competition series ever aired on television is the British import, The Great British Bake Off, also known as The Great British Baking Show. The Great British Bake Off, known affectionately to fans as GBBO, first premiered in 2010 with a genuinely winning cast of characters. Not only is it one of the best baking shows, but GBBO is one of the best British shows on Netflix.
Hosted by veteran British television personalities Mel Giedroyc and Sue Perkins, the series followed aspiring bakers as they faced off round after round in high-stakes competitions. The discerning and often hilarious judges for most of the series were expert bakers Mary Berry and Paul Hollywood. During the seventh season, controversy erupted when it was revealed that neither Mel, Sue, nor Mary would return for the eighth season. However, GBBO has still been great even without them.
Nailed It (2018-)
Watch On Netflix
Some people should just never, ever bake. Ever. But thanks to shows like Netflix's hit series Nailed It!, viewers get to watch some of the worst bakers in America show themselves to be as genuinely untalented as they claim they are. As one of the most fun reality TV shows on Netflix, Nailed It! is about as zany as a baking competition can get, with three self-proclaimed terrible bakers competing in two rounds to replicate professionally crafted baked works of art, ranging from cake pops to multi-layer cakes to intricately iced cookies.
Adding to the madcap fun of the series is the winning rapport between the series' larger-than-life host, Nicole Byer, and her trusty judge sidekick, chef Jacques Torres. A rotating cast of guest judges – with standouts including comedian Jason Mantzoukas, baking legend Sylvia Weinstock, and pastry chef Ron Ben-Israel – keeps things fresh and funnier.