10 Healthy Gingerbread Recipes That Double as Breakfast and Dessert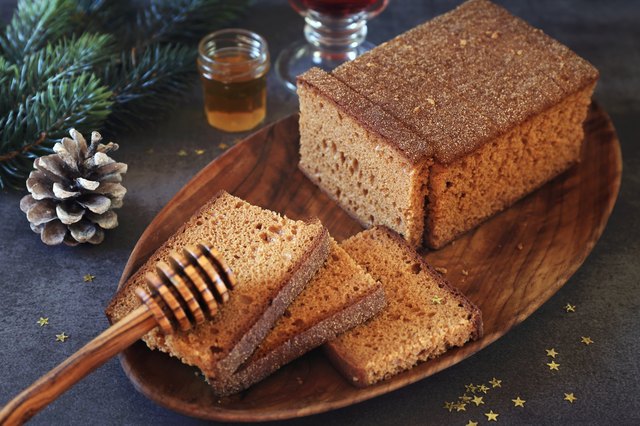 Is there anything more comforting than waking up to the scent of fresh gingerbread baking in the oven? This seasonal flavor is a favorite for many because it tickles the tastebuds, but it also has some powerful health perks.
Ginger — the signature ingredient in gingerbread — can squelch bloat, tame an upset tummy and calm nausea, says Bonnie Taub-Dix, RDN, author of ​​​​​‌Read It Before You Eat It — Taking You from Label to Table​​‌​​​​‌.‌
You can also get the same benefits from gingerbread-based baked goodies — as long as they don't contain too much saturated fat, sugar and salt.
From cookies to crumbles, these 10 better-for-you gingerbread recipes are wholesome enough for your breakfast plate but decadent enough for dessert and perfect to enjoy during the holiday season or year-round (because why not?).
‌228 calories‌
‌17 grams of sugar‌
This gingerbread breakfast bowl boasts 8 grams of gut-healthy fiber thanks to spelt flakes, a whole grain cereal with a nutty flavor. Taub-Dix likes that this recipe opts for plant-based milk, such as almond milk, which makes it an awesome option for people with lactose intolerance or those following a vegan diet.
The trick to transforming the texture of this tasty breakfast treat into a hearty, thick pudding is letting it sit in the fridge for 10 minutes or more. Believe us, it's worth the wait.
2. Baked Gingerbread Doughnuts With Maple Glaze
‌104 calories‌
‌9.8 grams of sugar‌
As fluffy, tender and soft as storebought donuts, these healthier homemade doughnuts definitely deserve a place on your breakfast plate. Not fried like your typical doughnuts, these ring-shaped gingerbread cakes are baked, cutting down the calorie count and fat content. Indeed, these better-for-you baked goodies contain only a fraction of the fat (2.3 grams per serving) compared to a glazed doughnut from Dunkin' Donuts, which clocks in at 11 grams of fat.
Plus, there's no processed gunk in the ingredients list, with a marvelous maple glaze made of maple syrup, coconut sugar and Greek yogurt (for a little punch of protein).
3. Healthy Slow Cooker Gingerbread Apple Crumble
‌131 calories‌
‌13.2 grams of sugar‌
There's so much to love about this simple slow cooker breakfast recipe, which combines two of your favorite fall flavors to create a cross between gingerbread cookies and an apple crumble.
Sweet and spiced, this comforting crumble won't break the bank in terms of calories, saturated fat, sodium or sugars, Taub-Dix says. But if you're watching your sugar intake, you can minimize the amount of molasses or maple syrup without sacrificing the terrific taste. "The natural sweetness of the fruit [in this case, Fuji apples] can generally carry the flavor," Taub-Dix says.
4. Crock-Pot Gingerbread Oatmeal
‌205 calories‌
‌25 grams of sugar‌
What's cozier than a big bowl of gingerbread oatmeal on a cold morning? This hot and hearty breakfast features all the fantastic flavors of your favorite gingerbread cookie including ginger, cinnamon, cloves and nutmeg. Bonus: These warm spices smell amazing as they simmer in the slow cooker.
To cut down on sugar, you can reduce the amount of molasses or brown sugar (or simply eliminate one entirely), Taub-Dix says. Alternatively, you can add fruit (like strawberries, pears or apples) for natural sweetness, more fiber and a chewy texture, she says.
5. Gingerbread Waffle French Toast Sticks
‌Calories: N/A‌
‌Sugar: N/A‌
These salivating breakfast sticks tout a tasty trio of gingerbread, waffles and French toast that's golden crispy on the outside and as fluffy as a cloud on the inside.
While this mouthwatering a.m. meal tastes like a million bucks (think: the most popular dish on your favorite brunch spot's menu), it's a cinch to make. By using pre-made waffle mix, you save a ton of time without starting from scratch, Taub-Dix says.
Just be sure to choose a whole-grain waffle mix, she adds. This will bulk up the fiber content, which supports digestion, heart health and satiety.
6. Healthy Gingerbread Loaf
‌213 calories‌
‌14 grams of sugar‌
This lovely loaf of gingerbread keeps saturated fat and sugar content low through smart swaps like applesauce instead of butter or coconut oil and unsweetened almond milk instead of sweetened kinds, Taub-Dix says.
By using two flour varieties, you get the best of both worlds: A light and fluffy texture thanks to all-purpose flour and a solid dose of nutrients due to whole-wheat flour.
Did we mention the deliciously decadent maple cream cheese frosting? It only involves mixing a handful of pantry staples like cream cheese, butter, powdered sugar and maple syrup, but it takes this luscious loaf to the next level.
‌112 calories‌
‌9 grams of sugar‌
When your baked bites boast healthy ingredients like nutrient-rich quinoa flour, they're a stellar way to start your day. Not only a great option for gluten-free folks, but quinoa also supplies a font of fiber and is considered a complete plant-based protein (which means it provides all the essential amino acids your body needs).
With a crunchy outside and chewy inside, these scrumptious cookies also contain palate-pleasing pieces of crystalized ginger in each bite. Yum. Looking to slash some saturated fat? Try using avocado oil or light olive oil instead of coconut oil, Taub-Dix says.
8. Gingerbread Baked Oatmeal
‌323 calories‌
‌19 grams of sugar‌
Bursting with bold flavors, this baked gingerbread oatmeal showcases warm spices like cinnamon, cloves and ginger for a fantastically fragrant baking experience. But the real star of this breakfast show is the coconut butter icing that gets drizzled on top.
Because you can make this baked oatmeal ahead of time, it's also perfect for meal prep. One batch equals six servings — enough meals to cover every day of the workweek, plus half the weekend.
9. Pumpkin Gingerbread Smoothie
‌270 calories‌
‌12 grams of sugar‌
What's yummier than a silky smoothie that tastes like gingerbread? One that tastes like gingerbread ‌and‌ pumpkin pie.
While this brilliant breakfast smoothie doubles as dessert in a glass, nutritious ingredients like bananas, unsweetened vanilla almond milk and chia seeds supply a slew of nutrients like fiber. With 8 grams per serving, this fiber-filled shake is guaranteed to keep your blood sugar steady and your stomach satiated all morning long.
Top it off with roasted pecan pieces for a little crunch.
10. Gingerbread Energy Balls
‌108 calories‌
‌13 grams of sugar‌
Get your gingerbread fix with these no-bake, ginger-spiced energy balls that'll give you a little pep in your morning step. With hearty, healthy fats and fiber from almonds and cashews, these bite-sized balls are bound to keep the belly grumbles at bay until lunch. Naturally sweetened with chewy dates and raisins, they also quench your sweet cravings without any added sugars.
The best part: These energy bites are beyond convenient. One batch of 15 balls only takes 10 minutes to make and remains fresh in the fridge for up to two weeks (or three months in the freezer).